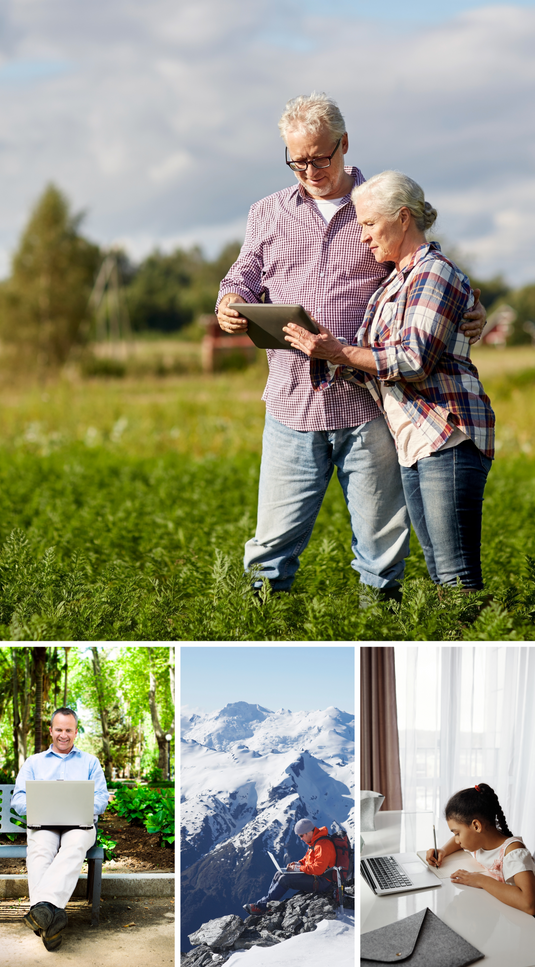 Places to use OTR Mobile devices
On the farm Having access to the internet on a farm can make life so much easier. With OTR Mobile, you can stay connected from anywhere on the farm. Whether you need to contact local vendors, promote new products, or stay in touch with family and friends, OTR Mobile's internet has your back! Enjoy a reliable connection that keeps up with your farm activities - no matter where you go. With OTR Mobile, farm life is as easy as ever!
Great outdoors With OTR Mobile's hotspots, you can easily access the internet whenever you're out and about. Never worry about being disconnected from the world, whether in a park, on the beach, or in the woods. With advanced 4G LTE technology, you'll get lightning-fast speeds.
Remote adventures With OTR Mobile, you can stay connected to the world wherever your adventures take you. Our internet service is perfect for exploring the highest peaks and steepest mountain trails, providing an unbeatable connection even in remote locations. Whether you're a hiker, climber, or just someone who loves the outdoors, OTR Mobile has the plan for you.
Remote learning OTR Mobile is an innovative internet service designed to improve your child's educational experience significantly. With OTR Mobile, parents and students can access various tools, resources, and educational materials at home or school. From video conferencing capabilities to online test prep, OTR Mobile provides comprehensive internet for all.
Contact Us
Please fill out the form below and we'll get back to you within 24 hours.